veterans memorial park
getting here
Traveling to the park
Coming from New Jersey: Cross over the Delaware Memorial Bridge and go through the tolls. Stay towards the right on Interstate 295 South and use the exit for Rt. 9 South. New Castle/ Vets Mem Park. You will come up onto New Castle Avenue. Stay to your left and turn left at the first light on to Cherry Lane. Once on Cherry Lane, the Park entrance is about a quarter-mile down the road on your left.
Coming from Delaware: When traveling on Interstate 295 North toward the Delaware Memorial Bridge, take the right exit for Rt. 9 South- New Castle/Vets Mem Park. Travel through one traffic light (Rt. 9/New Castle Ave.) onto Cherry Lane. The Park entrance is about a quarter-mile down the road on your left.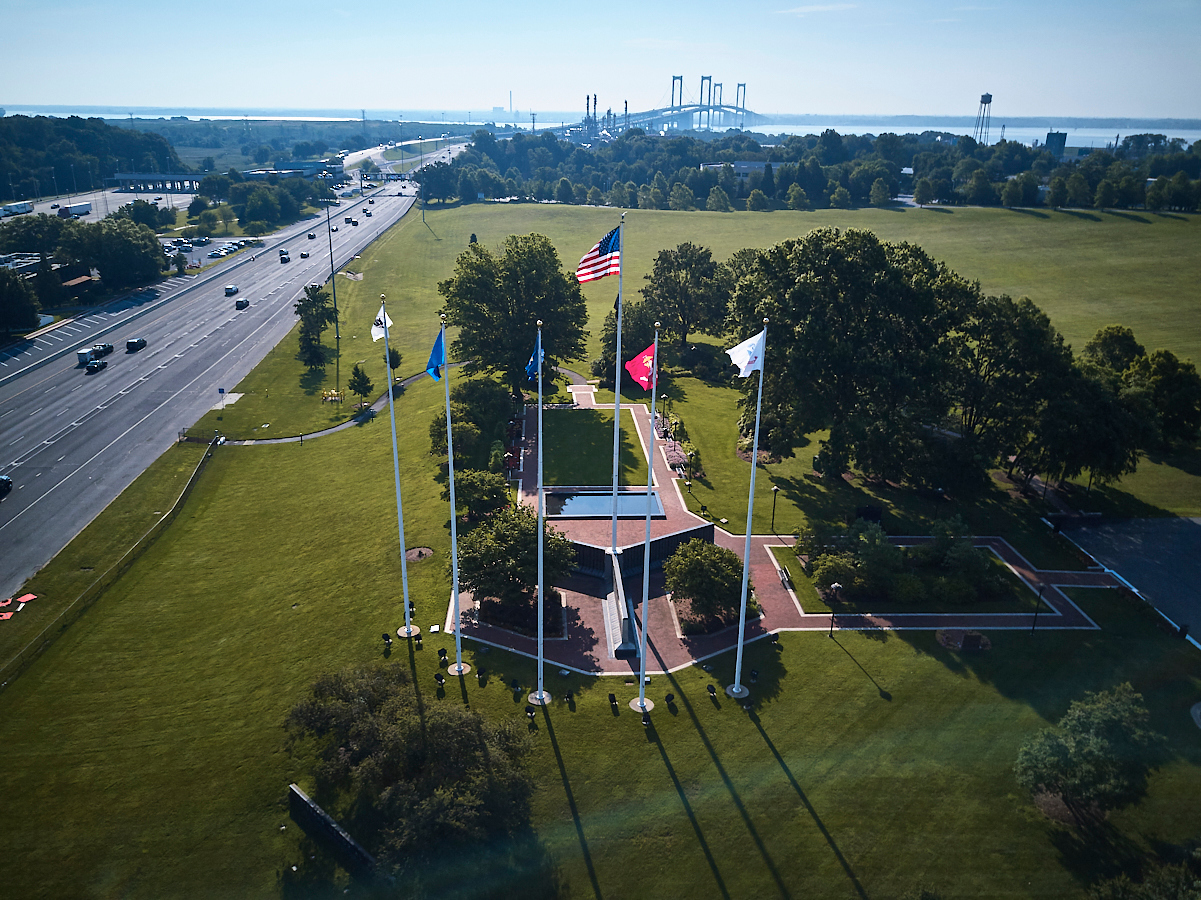 our location
The Park is located on the Delaware side of the Delaware Memorial Bridge just off the northbound lanes of Interstate 295.
Veterans Memorial Plaza
163 Cherry Lane
New Castle, DE 19720
Hours: Sunrise to Sunset; Daily

a place for remembrance and reflection
Veterans Memorial Park was created to provide a place to honor those who have fallen in service of our country from New Jersey and Delaware in military conflicts since World War ll. When it was first constructed, the hope was that the greatest of all wars and war times were over. Sadly, since its initial dedication, more conflicts have ensued and additional remembrances with monuments and markers have been added to the initial central Memorial in the Park.
This 40-acre park has become a place of quiet reflection for many who need it. Frequent visitors include veterans looking to pay respects to fallen brethren, veteran families recounting family history to younger generations, history tourists who include it on their itinerary of historical stops, and local residents who come to the Park for peace and quiet from daily routines. The Park is free to the public and is open 365 days from dawn until dusk. It is maintained by the Delaware River & Bay Authority, which also oversees the Delaware Memorial Bridge. All are welcomed as long as they maintain a demeanor of respect for this solemn place.
The Park is one of 68 specially designated sites across the United States and its territories for annual Veterans Day and Memorial Day services recognized by the National Veterans Day . If you are traveling to the park to attend one of these services and want more information, please use the button here.

Commonly asked questions
Is there parking at the Park?

Yes. Plenty of free parking is available. During our Memorial Day and Veterans Day services, DRBA personnel will direct traffic appropriately.

Is the Park Accessible?

The Park is generally flat with wheel-chair accessibility to all memorials. There are three steps in one portion of the Park from the Eagle Monument to the central Walls of Remembrance, but there are other ways to view each of these elements without taking the steps.

Are there amenity services at the Park?

No restroom or food facilities are available at the Park. During annual Memorial Day and Veterans Day services, mobile sanitation facilities are provided for guests attending these events.

Have a different question?

Contact us using the contact form through the button here.
---
Where we are
If you are interested in this park you may want to know about other parks in Delaware and New Jersey that also pay honor to veterans with additional memorials. Click on the button here to learn more of regional sites and parks dedicated to helping us all remember the service and sacrifices of U.S Armed Forces personnel on behalf of our nation.